All articles
Vol. 1 NO. 4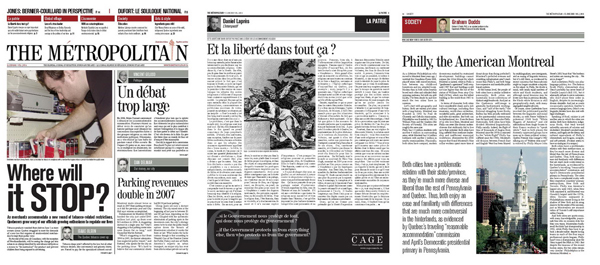 By Robert J. Galbraith on June 12, 2008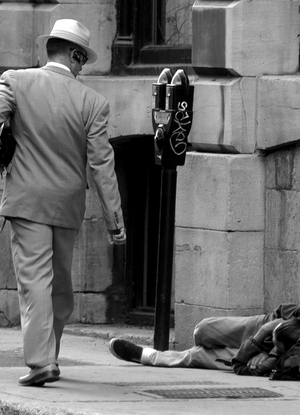 By Daniel Laprès on June 12, 2008
Il y a une chose dont on n'aura pas beaucoup entendu parler durant notre interminable psychodrame sur les accommodements religieux. Cette chose-là, c'est la liberté. En effet, peu de gens dans les médias ni parmi les bien-pensants de tout poil, et encore moins chez les politiciens, auront relevé le fait que c'est toujours la liberté, ce socle sur lequel repose la démocratie libérale, qui est la première à être remise en cause lorsque les adeptes des sectes religieuses s'efforcent d'imposer leurs coutumes superstitieuses à la société...
By Isaak Olson on June 12, 2008
Tobacco products vanished from shelves June 1 as store owners across Quebec struggled to meet the demands of a new law that requires all smoke-related merchandise be kept from public view...
By Vincent Geloso on June 12, 2008
En 2006, Mario Dumont commençait à dénoncer les accommodements raisonnables. Plusieurs étaient au début ravis de constater qu'un homme politique osait dénoncer les concessions inacceptables faites à des groupes religieux au sein des institutions publiques. Néanmoins, on a vite réalisé qu'une boîte de pandore venait d'être ouverte...
By Pierre K. Malouf on June 12, 2008
Annoncé en 2005 par le ministre Jean-Marc Fournier, le programme Éthique et culture religieuse remplacera dès septembre prochain l'enseignement moral, de même que l'enseignement moral et religieux catholique ou protestant. Il sera imposé à tous les élèves du Québec, y compris à l'école privée...
By Daniel Dufort on June 12, 2008
Avec le réveil de la nature québécoise et la dégelée que semble prendre l'ADQ, il était tout à fait idoine pour Pauline Marois de tenter de remettre la souveraineté à l'ordre du jour plutôt qu'aux calendes grecques où l'idée semblait avoir été justement reléguée...
By Dan Delmar on June 12, 2008
Montreal made almost twice as much in 2007 from parking revenues as it did the previous year and City Hall says: mission accomplished...
By Beryl Wajsman on June 12, 2008
Last week we commemorated the fortieth anniversary of the assassination of Sen. Robert F. Kennedy. He was shot on June 5th, 1968 at the Ambassador Hotel in Los Angeles as he was celebrating the California primary victory that would have led him to the Democratic Presidential nomination. He died the next day. For many of us who were coming to political maturity in that turbulent time hope seemed to die with him...
By Alain-Michel Ayache on June 12, 2008
Il y a quelques années, je me battais encore pour l'indépendance du Québec car j'y croyais… Je croyais et crois toujours que le Québec est une nation distincte et qu'elle mérite d'avoir son propre pays… Mais aujourd'hui je me pose de sérieuses questions sur la nature même d'un tel État québécois lorsqu'il s'agit de mettre de l'avant sa politique étrangère, et pour cause!..
By Amb. Fred Eytan on June 12, 2008
ÉRUSALEM - Au moment où nous célébrons la réunification de Jérusalem, des questions se posent dans le monde arabe et dans les capitales occidentales sur l'avenir de la capitale légitime de l'État d'Israël et du peuple juif...
By David T. Jones on June 12, 2008
Sex sells. And a good sex scandal generates 360 degree, "24/7" attention. Thus Canadians (and Canada watchers around the world) have found the Bernier-Couillard saga a perfect foil for all sorts of analysis both light and ostensibly deep—certainly more than that accorded whatever serious issue a serious commentator would select for public attention...
By Nathalie Elgrably-Levy on June 12, 2008
Depuis la signature du protocole de Kyoto, les grand-messes sur le climat se multiplient. Qu'il soit question des conférences de Buenos Aires, Montréal, New-York, Nairobi, Vienne, Bali, Bangkok, ou d'autres, elles invitent les représentants de tous les pays à réfléchir sur la problématique des changements climatiques et à trouver les moyens pour réduire les émissions de gaz à effet de serre (GES)...
By David Simard on June 12, 2008
Avec la montée de la droite au Québec, les idéologues néolibéraux se font entendre de partout. Si leurs arguments méritent d'être entendus, il faut tout de même veiller à remettre certains pendules à l'heure.Ainsi, s'il est vrai que l'État-providence doit s'adapter aux réalités nouvelles, il ne doit cependant surtout pas disparaître.
By Roy Piperberg on June 12, 2008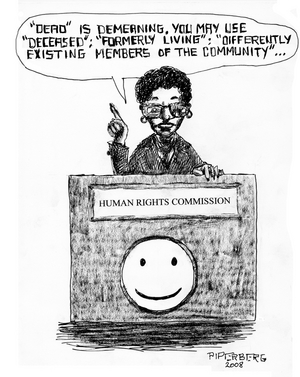 By Graham Dodds on June 12, 2008
As a lifetime Philadelphian who moved to Montreal three years ago, I watched the Canadiens-Flyers NHL playoff series with mixed emotions, torn between my childhood hometown and my adopted home. Hockey fans in both cities heartily booed each other and ridiculed their opposing partisans, but with my split loyalty, I've been struck by just how much the two cities have in common...
By Mathieu Laberge on June 12, 2008
Il y a quelques jours, Le Journal de Montréal et Le Journal de Québec ont publié sous forme de classement des données relatives au taux de décrochage des écoles secondaires du Québec. On ne peut que saluer l'intérêt que portent ces deux grands quotidiens à la réussite des élèves, dans la mesure où il s'agit d'aider les parents en leur fournissant suffisamment d'informations pour qu'ils puissent faire un choix éclairé quant à l'école que fréquenteront leurs enfants...
By Jessica Murphy on June 12, 2008
The black-focus school debate that created a stir in Ontario last year has made its way to Montreal...
By Pierre K. Malouf on June 12, 2008
«Une recherche valide doit se donner pour finalité la reconquête d'une totalité et elle ne peut dès lors que se déployer dans un espace multidisciplinaire. » Ces paroles furent prononcées en 2000 par Marc Angenot, à l'occasion du lancement simultané de trois (!) ouvrages de sa plume...
By Alidor Aucoin on June 12, 2008
Dan Hanganu, the Romanian-born architect widely acclaimed for this design of Montreal's Musée d'archéologie et d'histoire de Pointe-à-Callière, believes that much of today's architecture is the work of what he calls "acrobats, who make noise for a period of time, then eventually lose their spark." Many computer designed buildings are, he believes, a "vulgar expression of advanced mediocrity," and lack depth of the art of architecture...
By Alidor Aucoin on June 12, 2008
ot so long ago you had to hang out in New York, Los Angeles or Vancouver to see contemporary North American art of any significance. But if you want evidence that art as good and as interesting is being made by Quebec artists, you need look no further than the Triennial at the Musée d'art contemporain de Montréal...
By Louise V. Labrecque on June 12, 2008
Que faire ici ? Et pourquoi ? Pourquoi j'écris ? Quels discours, quels pays ? Qui suis-je ? Où vais-je ? La disparition possible dans l'anonymat pousse toujours à une recherche de ce qui constitue son originalité propre...
By Nancy Hinton on June 12, 2008
The fiddleheads have been coming in by the potato sac this spring, officially kicking off the season of wild edibles in my kitchen at Les Jardins Sauvages. For those of you unfamiliar with Les Jardins, it's a food and restaurant partnership between myself and my forager-par-excellence partner François Brouillard, a foremost field expert on Quebec's wild ingredients. We're located just on the way to Rawdon—about 45 minutes drive from Montreal...
By Sharman Yarnell on June 12, 2008
Once again, The Fringe Festival is serving up a cornucopia of stage delictables, with something for everyone. You might say this is art with no strings attached, art with no holds barred, where anything and everything goes. From dance to drag, drama and music, it has it all...