Can there be a more dazzling art exhibition around than the Claude Tousignant retrospective at the Musée d'art contemporain?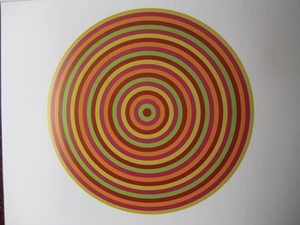 The last show put together by gallery director Marc Mayer before he left for the National Gallery in Ottawa in January, the exhibition, curated by Paulette Gagnon and Mark Lanctðt, is the first major survey of the Tousignant's work in more than 25 years. The 90 paintings on view celebrate the artist's ability to render abstract sequences of colour into pure sensation. The effect is mesmerizing and difficult to achieve - this is not a robotic sameness of execution, but a visceral, oscillating delight, spirals and monochromes of pure colour.
A seminal figure in the history of abstract art in Quebec since the 1950s, Tousignant has long been known for his fluorescent palettes, cubes and circles. The exhibition is a chronological circuit, beginning with tachist paintings, which juxtapose dabs of pure colour, followed by paintings, sculptures and reliefs that draw on Piet Mondrian for inspiration, and on to his rings of circular paintings and his monumental monochromes.
His monochromatic pictorial spaces and chromatic screens, Nord, Céphéide and Ailleurs, are drenched with colour that tilts toward indescribable shades of pink, icy blue and a mossy green.
Although monochromatic works are perhaps the most difficult of minimalist art to understand and appreciate, it is hard not to be impressed by the richness of the unusual color combinations in Tousignant's diptychs and other multi-faceted works.
Another monochrome, Èspace Mnemonique, black acrylic bars on canvas mounted in a small alcove by itself surrounds the viewer almost like a religious experience. Other soaring works, like Electrolysation, are hypnotic.
And then there are his signature gongs and spirals - floating circles of drenching colours in green, pink, yellow, vermillion and orange.
This is a gallery show; many of the works are far too large to be displayed in the average house or apartment. But moving slowly and repeatedly through room after gallery room of Tousignant's art is sheer magic, a magnificent visual experience that offers a new look at his work as a whole.
Claude Tousignant, a Retrospective: at the Musee d'art contemporain de Montreal until April 26. Call 514-847-6226 or visit www.macm.org. You might also want to check out Claude Tousignant: Retrospective on Paper (1955 - 2004) until April 4 at Art Mur, 5826 St. Hubert St. Call 514- 933-0711 or visit www.artmur.com it www.artmur.com