So Irish, in fact, that people with names such as Aubrey, Charest, Sevigny, Beaudoin, Duceppe, Bourque, Sylvain and Dore can claim to be sons and daughters of Erin. A new exhibition that opened this week at the McCord Museum illustrates how Quebec has been shaped by the blending of the Irish and French identities.
Although 500,000 Quebecers claim to be Irish, its estimated that 40 per cent of the population is of Irish ancestry.
"It represents a cultural success story, in terms of the blending of culture and heritage," said guest curator, Lorraine O'Donnell
"Québécois music, for example, is derived from Irish reels It is influenced by Irish music and by Irish folklore."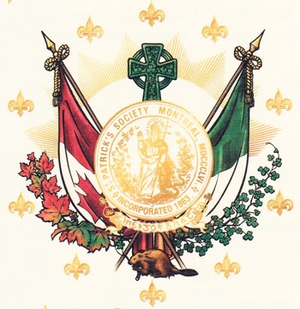 The McCord show is a joint effort of the St. Patrick's Society of Montreal, which observes its 175th anniversary this year, and the Irish Protestant Benevolent Society. The exhibition skirts the religious and political differences that define Irish history. There are no shades of Kelly Green or Orange to inflame partisan feelings. The over-riding colour is a soothing, pastel shade of green. The most controversial displays - if you can call them that, deal with Dr. Edmund Bailey O`Callaghan, who was charged with treason for his part in the 1837 rebellion, and Thomas d`Arcy McGee, the outspoken father of Canadian confederation who was assassinated in 1868.
"We tried to achieve a balance and represent the historic realities," said O'Donnell, a consultant with the Quebec English-Speaking Community Research Network. We didn't hide any of the tensions, but we didn`t dwell on them. The process of what we would showcase was a long and complicated one. What we wanted to do above all was to reveal the variety and the complexity of the Irish experience in Quebec." The exhibition showcases 10 historical figures, including one of the one of first Irishman to appear in census in New France, Tadhg Cornelius O'Brennan, and ends with a salute to Marianna O'Gallagher, the Quebec City author who founded Irish Heritage Quebec and who is still alive.
Other exhibits focus on Grosse Ile, the quarantine station where many of of the famine Irish died, Griffintown, an old Irish Montreal neighbourhood, and the St. Patrick's parade, which this year celebrates its 185 anniversary.
"The parade is a symbol of the ongoing success story we are talking about,"' said O'Donnell, "It is still organized by the Irish, but it is for everyone. It`s great."
Archeological evidence suggests that Irish monks established settlements in the Gaspé long before Jacques Cartier claimed the area for France in 1635. In fact, some suggest that the name Cartier itself may be derived from the Gaelic, McCarthy.
By the early 18th century there was an identifiable Irish presence in what is today Quebec's Portneuf county. One of them, Jack Reilly, who arrived in Boucherville in 1704, changed his name to Jean-Baptiste Riel, and his grandson, Louis, founded the province of Manitoba, led two rebellions in the North West Territories, and was hanged for treason in Regina in 1885.
More came after the Conquest in 1760 with the 99th Irish regiment. Few people are aware of it, but the first St. Patrick's parade was held in Trois Riviéres in 1776 when soldiers with the American revolutionary army from Boston marched through the streets.
The first major wave of Irish immigrants came to Quebec after the War of 1812, when labourers were recruited to build the Lachine and Beauharnois canals. Then, the famine Irish arrived in 1847. Many of those orphaned by the famine were Roman Catholics adopted by francophone families. The prevailing attitude, as Mavis Gallant has described it so succinctly, was "The Irish were not English. God sent them to Canada to keep people from marrying Protestants." Some, like the ancestors of Brian Mulroney and Claude Ryan kept their surnames; other families, like those of Louis ST. Laurent and Jean Charest did not.
Three members of the same Irish family wound up being premiers of Quebec, Daniel Johnson, who derived his interest in politics from his Irish grandparents was Union National premier of Quebec from 1966 to 1968. His sons, Pierre-Marc and Daniel Johnson Jr., also served as premiers, one of them as a Péquiste in 1985, the other as a Liberal in 1994.
Significantly, the show is being held at the McCord museum. David Ross McCord, who founded the museum in 1921 is the descendent of an illustrious Irish immigrant family which had its roots in Dublin.
BEING IRISH O'QUEBEC, opened this week at the McCord Museum, 690 Sherbrooke St. W., 514-398-7100, www.mcord-museum.qc.ca