One of the latest petitions to hit activist website change.org is one that could affect the lives of hundreds of thousands of Quebecois and Quebecoises trying to keep warm.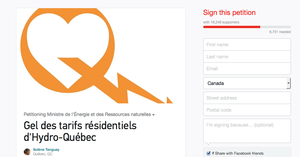 Solene Tanguay, a self-described single mother from the Quebec City area, mounted a petition demanding that Hydro Quebec freeze residential electricity rates.
Since launching, the petition has attracted over 16,000 supporters and Tanguay is looking for almost 10,000 more.
In her letter to her fellow citizens Tanguay refers to the reality affecting most Quebecers, one in which costs are rising faster than salaries. She also mentions that the company has had profits of $1.2 billion over the past six years.
"We should be proud...we produced a technology that is the envy of many other countries," her open letter notes. "We worked hard...all because it was worth the trouble, because we could one day reap the benefits together."
She goes on to talk about the poverty she sees all around her and asks if it is difficult for her, how hard is it for those living in financial difficulty?
"Families with low or modest incomes are the hardest hit by these increases, because a large part of their budget goes to heating and many live in badly-insulated lodgings," Tanguay writes. "[One] can't go below a certain temperature. There is a minimum to make sure that at least the pipes don't burst!"
She ends by asking the government to step in and evaluate their priorities. In Tanguay's view, if the provincial government wants to increase the state's revenues, then do so with tax increases.
If they are not ready to do that," she concludes. "Don't disguise a tax increase by raising our Hydro bills."
Tanguay's explanation is followed by a letter intended for the Ministere de l'Energie et des Ressources naturelles (MERN), noting the support the her petition has garnered and asking them to step in.
She cites numerous reasons for the MERN to step in, not the least of which is the record number of shut-offs in 2014; 51,000 homes were left without power due to a failure to pay bills.
Tanguay also considers an inflation of Hydro rates to finance the province constitutes a regressive tax and she states clearly that it is immoral to tax an essential service.
To sign the petition, please visit change.org and search for Hydro-Quebec.