For 1495 consecutive Wednesdays this stately mansion on its quiet tree-lined street in Westmount has opened its yellow door with the admiral's port and starboard lights of red and green firmly, quietly beaming welcome to a motley crew of you and yes, I...to meet and greet, to talk and tease, and laugh and joke and sing...and ring in the changes of government, economies, birthdays, markets, years, ideas, philosophies, generations, recessions, opinions, seasons, reasons...even millennia...during times of sadness and madness...of plenty and of want...while it has steadfastly borne the brunt of countless openings and closings, farewells, hallos, and bon voyages...swinging shut for the final time behind some...but opening more often than not...for the crew of long time regulars...with or without their varied guests...and pasts...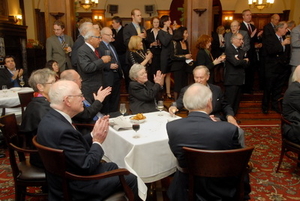 It never asked to be so used...but the freedom of speech, swoop of ideas, changing of gears …and zest of life displayed each week behind its timber frame...wouldn't bring shame to any board room, meeting hall, news room, council, parliamentary chamber, school, summer camp...or even fraternity or sorority house sited on myriad university lands across this continent of ours...while the spirited exchanges it has witnessed, whether fuelled or not by the countless bottles of...water...and yes, red and white wine...and the odd rosé... and, of course, champagne...that have passed its threshold...and the nuts and pretzels scoffed (or is it more scarfed down?) during the vibrant debates that have often…taken place around its candlelit table...in the panelled dining room...have...I have no doubt... imprinted themselves upon the very timbers of the house that Diana…aka the Mouse...and David have inhabited and cared for...but now must leave...for their time within its walls is done...and the fun they have provided us with here...moves to a different space and place.
We all will grieve in our own ways the ending of our weekly visits to this home... their magical domain...where for almost 30 years the Wednesday Night discussions, book launches, art shows...and cultural events have gladdened our hearts and...enriched our minds and souls...and the house at 33 Rosemount has been the silent witness to our names and games and fights...and flights of fantasy and rhetoric.
The Christmas trees, the seasonal hot punch, the mince pies, the strawberries...the cakes ...the tall tales...and puns...the arias, the guitar, piano and violin recitals...have regaled us...and in the distant past, the all-night chats…the strobe lights...the then...novel... sound and multi-media wall, the trapeze swing and water playground in the basement... that some of us remember witnessing and playing with...in the after hours…is just one of the gifts that lives on in our collective memories...as I doubt the new proprietor will leave the floor and pipes that way for future occupants...to wonder at...but the house will... without fail... remember...and add this occupancy...by the Thèbaud-Nicholson family...to its integral DNA...as we say:
Thank you Number 33... Rosemount...for sheltering them and us and all their other friends and guests...for we've been truly blessed by the welcome and good cheer ...and knowledge and imagination bounty...we have witnessed weekly here…
So, goodbye house...goodbye to David...and to Mouse...let's lift our glass to wish you...and it well...then...hell...it's off to Haddon Hall...that has the temerity... the gall...to think it can supplant...the history that you've made here...we'll have to see...don't you agree?
Bon courage...good night and a gros merci...to 33… Rosemount...Westmount... and to all!
Note: While originally penned as an ode, these words do not adhere to a formal stanzaic structure, but in classical Greece odes were performed at public festivals or as part of a drama, which Wednesday Night at 33 Rosemount over the years has undoubtedly been. So, although offered as a farewell toast, in my heart it remains an ode to a wonderful house and home. It will be missed.
© Wanda Potrykus, OWN October 27, 2010