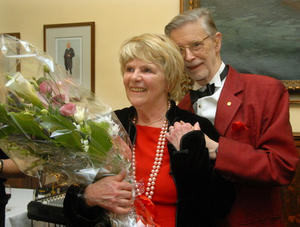 Some thirty years ago, Diana and David Nicholson opened their storied home at 33 Rosemount Avenue in Westmount for conversations with friends every Wednesday night. Those conversations grew into a Montreal tradition that rivals the most influential political and literary salons of Washington, London or Paris.
Almost every leader from the worlds of politics, finance, medicine, science, academia and any other vocation you can think of have passed through their warm and welcoming doors. And many of the ideas from these Wednesday Nights have found their way into our collective consciousness. They have affected our lives for the better. They have affected those who affect our public discourse. They have made all of us who participate wiser, more generous and more compassionate. But most of all, these special Nights have forged friendships that have made us all family.
Our hearts and spirits have been touched as much as our minds. I have been fortunate to have been going for just over a decade. But The Métropolitain has another connection to this special place. One of our colleagues, Albert Sevigny, was raised in that house. His father was Defence Minister Pierre Sevigny and it was the Sevignys who sold the house to the Nicholsons. And indeed Pierre Sevigny was a participant at many a special night. Wednesday Night at the Nicholsons is a Montreal tradition. The salon has been covered in several of our daily newspapers. Tonight will be the 1500th consecutive Wednesday Night. It will be a grand celebration at the University Club. We wanted to pay a special tribute to this remarkable and unique moveable feast. Ernest Hemingway once wrote that, "If you were lucky enough to have lived in Paris then – for the rest of your life – it stays with you. It is a moveable feast." That's the way I feel about this very special band of brothers and sisters. Even though the Nicholsons have moved from Rosemount to Haddon Hall, the Feast is no less sweet.