Too many people are still scandalized by the mere idea that youth discovering their gay orientation could be given the same liberties and possibilities as straight ones. Whereas the discovery of heterosexual desire is celebrated as the sign that "he's becoming a man" and therefore largely encouraged, without anyone seeing any sort of proselytizing in it, it's a completely different story when it's homosexual desire that's surfacing. Everything happens as if gays and bisexuals under 18 didn't exist, or at least shouldn't exist.
~ Dr. Michel Dorais, Mort ou fif
Quebec's wide-ranging, inter-ministerial action plan against homophobia, years in the making, is expected to be tabled this fall.
The action plan uses as its framework the recommendations put forward by the Quebec human rights commission's 2007 report into homophobia in the province.
While the gay and lesbian community is championing the new plan, resistance to change is expected in some of the province's more conservative schools.
The report, commissioned two years earlier by former provincial Justice Minister Yvon Marcoux, found discrimination to be widespread in Quebec's schools and homophobia to be a burden carried disproportionately by homosexual and bisexual youth: government statistics suggest they're six to sixteen times more likely to consider or attempt suicide.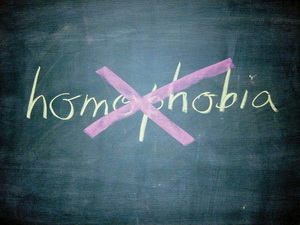 Gai Ecoute President Laurent McCutcheon says they've been among last ones to benefit from our increasingly liberal society.
Each year, the helpline asks each school in the province to list their number in the establishment's phone book.
"There are 40 per cent of schools that refuse, or don't answer," McCutcheon said. "None say they don't want to, but they just don't give us an answer. No one refuses officially."
A school's progressiveness relies on many factors - the school board, its commissioners, administration, teachers, counselors and pupils - and McCutcheon hopes government action will create a standard for them to follow.
"It'll set the tone," he said. "Before, we couldn't even talk about homophobia in schools."
Research indicates that the social stigma that surrounds lesbian, gay, bisexual, and transgender teens leads to a variety of health risks such as substance use, risky sexual behaviors, eating disorders, suicidal tendencies, and victimization.
Youth who face verbal and physical abuse due to their perceived sexuality miss more school days and have higher dropout rates.
The rights commission report notes that unease and prejudice surrounding homosexuality stops isolated youth from turning to adults for guidance.
(The problem isn't relegated to the students. It's also extremely rare for a teacher to come out of the closet.)
The report suggests close-mindedness on the part of parents, school personnel and religious authorities and the lack of tools and training for staff are hurdles in the fight to eradicate this type of discrimination.
The recent case of 14-year-old David Fortin, missing from his Alma, Que., home since last February and believed to have run away after constant bullying over his perceived homosexuality, highlights the suffering kids undergo.
His story struck a chord with 22-year-old Gengis Grenier.
Growing up in Baie Comeau in Quebec's Cote-Nord region, he says he was a victim of constant violence and harassment in high school, recalling how his peers once tried to drown him during gym class swimming lessons.
But his pleas for help were ignored. "I don't understand why my principal wouldn't help me," he said.
"There's a lot of work to be done, many cases that are being buried."
In May, his petition for government action was delivered to Justice Minister Kathleen Weil, who's at the forefront of Quebec's new plan.
Grenier would like to see school staff trained to on how deal with the subject that remains taboo, especially outside the confines of Montreal- with its wealth of advocacy groups - and in cultural and religious communities.
In Quebec's regions "organizations like those aren't allowed in," he said.
"It's a new thing that people are talking about it. I've met teachers who've tried to help but have met resistance."
GRIS Montreal's Marie Houzeau says she's nonetheless seen significant change in attitudes over the years.
"It's better, we see things that wouldn't have happened 10, 20 years ago," she said, noting she's seen cases of students coming out while still in school.
"But there's still stigmatization - it's a very fragile thing."
But Weil expects her action plan to change things.
While she's not ready to discuss its details, she says the government will deliver not just promises but "real actions - what we'll do and how we'll do it differently."
"Minorities are often confronted with obstacles, obstacles that stop them from reaching their full potential as human beings," she said.
"Society can't afford that, can't afford to lose these great people."