Forever Plaid at the Segal Centre until February 22 is a happy-go-lucky musical museum piece, mounted with obvious affection and encased in clean-cut nostalgia. If the Four Aces, the Four Lads, Johnny Ray, ("The Cry Guy"), Topo Gigo, Senor Wences and Caribbean calypso rhythms mean anything to you, this local production is a faithful, full-fledged hi-fidelty hit.
Stuart Ross' Forever Plaid made its debut off Broadway 25 years ago, and it remains a crowd pleasure with a certain generation. especially the baby boomers who grew up in an era of 45 r.p.m juke box tunes.
The premise of the evening is paper thin: a vocal quartet with romantic dreams of hitting it as big as the Crew Cuts is killed in a car crash. Through some sort of miracle, the Four Plaids as they style themselves – Frankie, Jinx, Smudge and Sparky - are allowed to return to earth through a hole in the ozone layer for one evening to stage the show they had been working on. It is, as one of them quips, "the biggest comeback since Lazarus."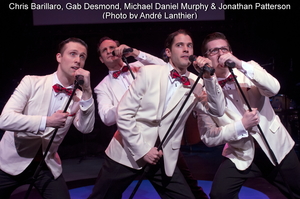 In keeping with his usual panache, director Roger Peace has recreated the period with perfect heart and soul. It is an evening of song after song of vintage hits, punctuated with deliciously corny gags like the use of toilet plungers as microphones, a rousing audience participation number, and even a singing jingle for a Mercury Turnpike cruiser, a car which was discontinued in 1959.
It is not quite as mindless as it seems. It takes talent, teamwork and precision to make it work, and Peace has assembled a superlative ensemble cast.
Gab Desmond is smooth as Frankie, the group's front man. With his chipmunk cheek, Michael Daniel Murphy's Sparky is a scene stealing delight. Chris Barillaro is a nebbish Jinx with an incredible vocal range and Jonathan Petterson is a clumsy and forlorn Smudge who you can't help but dig. They harmonize the boo-shoo-do-wop melodies beautifully and each shines in his solo routine with standout renditions of tunes such as Cry, Perfidia, Sixteen Tons and Chain Gang.
The Ed Sullivan show in three minutes is the showstopper of the evening, (for those in the audience who remember Ed Sullivan).
The production is enhanced with rear screen projections designed by George Allister and video animations by Eva Civjanovic which navigate the musical's narrative. The choreography is so hep hurts, and for this show that is praise, not a put down. Kudos too to musical director, pianist David Terriault, Mike de Mais on bass, and Parker Bert on drums.
Forever Plaid is a fleeting return to the past, a time warp, a reminder not only of how much the music has changed since the 50s, but about how the greying audiences who are the main market for offerings like this are fading as well.