Benedict Vanier stood tall, head and shoulders above all the other Trappist monks in his religious community at l'Abbye Val Notre Dame in St. Jean de Mantha. The regal bearing came naturally. He was the son of Canada's devoutly catholic Governor-General Georges Vanier and his wife Pauline Archer. He lived a life of contemplation in relative obscurity as a monk and as a priest for almost seven decades. Yet at his funeral on May 17, he was remembered as a genial spiritual advisor who was both pithy and profound. Father Vanier was 88 when he died at on May 13. His brother Jean, the renowned philosopher and founder of L'Arche, was with him when he died but a previous commitment prevented him from attending the funeral.
"He was a free man, free of everything," said Dom André Barbeau, who celebrated the funeral Mass, before a standing room crowd. "He was a man of deep wisdom who was able to impart with precision, in a few well- chosen words, his carefully considered ideas, his deep sense of humanity nourished by his faith in Christ. He was someone with a great sense of humour, always smiling. He had an open, welcoming spirit."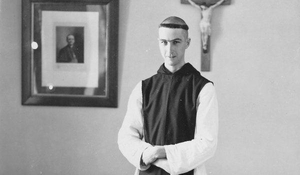 Benedict Vanier, the third of five children in the distinguished family, was born at the Citadelle in Quebec City on Nov. 20, 1925. As a child, he was known as "Byngsie" nicknamed for his godfather, Lord Julian Byng, the British aristocrat who led the Canadian Corps to Victory at Vimy Ridge during the First World War. When Benedict was born, Lord Byng was Governor-General of Canada and Vanier's father, Georges, a hero of the First world War, was Byng's aide-de-camp. Byngsie was schooled in England, then in France, when his father was named ambassador.
He fled with the family after the Germans marched into Paris, but enlisted in the infantry in 1944 and served until the war ended. The war shocked his sensibilities; he was especially horrified by evidence of Hitler's persecution of the Jews, and decided to become a monk in an attempt to make sense of a world gone mad. , He entered the Cistercian Abbey at Oka when he was 20, was professed in 1948 and ordained a priest in 1952. He contracted tuberculosis and spent two years in a sanatorium before returning to the monastery. For nine years afterward, he was chaplain to the Sisters of Bon Conseil at St. Romuald.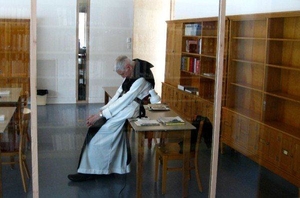 Vanier's thinking was influenced by the Belgian philosopher Adolphe Gesché, who held that God is not an abstract, intellectual concept but an active, sometimes disturbing, presence in the contemporary world. If the Church is going through a crisis, Vanier said, it is because "God provokes us, challenges us. But like the sunlight that breaks through the darkness, be assured, God renews everything that seems to be dormant and without life."
Vanier wasn't always comfortable being the son of parents who are now being considered for sainthood, and considered his religious community more of a family than the family he was born into.
"He was a man of little things, a wise man of few words," said Rev. Marcel Gagne, who was a novice with Vanier. "He was a man who was aware of his own weaknesses and at the same time extremely forgiving of the weaknesses of others."
Nicole Paquette Laparé, who did an annual retreat at the abbey, remembered Vanier as a spiritual advisor who was "tender, vulnerable and completely non-judgmental. He embraced everyone with an easy warmth. His nephew, Phillip recalled that his uncle "was so generous with his feelings, so generous with his thoughts, so patient. Children gravitated to him spontaneously."