It's no joke, but there is a punch line: faithblender.com. The new inter-faith blog which went on line three weeks ago (Feb 14) features postings by Montreal broadcaster and Roman Catholic priest John Walsh, Orthodox Jewish Rabbi Chaim Steinmetz, and Imam Ziyad Delic of Ottawa, who is considered to be among the world's 500 most influential Muslims.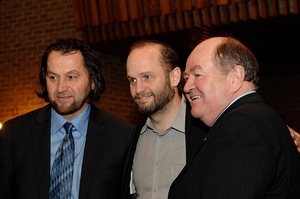 The three have no intention of making converts, but rather are blogging about what their respective faiths have in common. "The three of us have different traditions, but we are like minded, and we wanted to create a dialogue," says Walsh. "As we go along, we'll respond to each other, and as people come to the blog, to them as well. We've decided to go with the flow and see where it leads us." Rabbi Steinmetz and Walsh know each other, and they recruited Imam Delic to join the endeavor."What triggered the idea, is that each of us have been well received in each other's houses of worship – church, synagogue and mosque," adds Delic. "Since we managed our relationships in the community in a productive manner,and got to know and respect one another, we decided to put the philosophy in action by blogging."
Everything is on the table – politics, religion, ethics and pop culture. In his first blog, Rabbi Steinmetz, who leads Congregation Tifereth Beth David in Cote St. Luc, managed to link the Superbowl and the Slaughter in Syria. "We recognize that in our collective history what was done in the name of G-d begs for forgiveness," reads the blog's mission statement. "We begin with reconciliation and hope to build stronger bonds of friendship and of faith. All three of us share the golden rule; do unto others what you would have them do unto you, which is but the beginning of what we can share with you.
Check it out at faithblender.com