During the First World War Otto Joachim was still a boy taking music lessons at the Buths-Neitzel conservatory. In Dusseldorf each day he passed a house that once belonged to Johannes Brahms. That, he said, gave him an inspiration, if he needed any, to think, "Hey, are you going to be a composer some day?"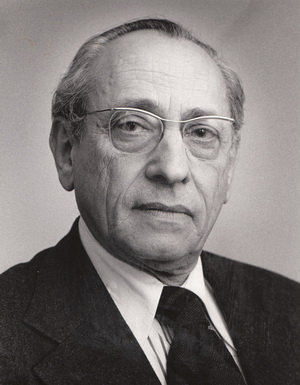 Joachim, who was 99 when he died of heart failure in Montreal on July 30, was Canada's most senior composer. His groundbreaking atonal work, Katimavik, was commissioned for the Canadian pavilion at Expo 67, and is thought to be the first score in Canada composed entirely of electronically-generated sound. Not only was Joachim a stalwart of the contemporary music scene, but he was one of the founders of the Montreal String Quartet, which recorded with Glenn Gould, and a founder of the Montreal Consort of Ancient Music. He also taught chamber music at McGill University and at the Montreal Conservatory.
"When you talk about nation building and laying down tracks, Otto was someone who laid down cultural tracks, physically and metaphysically," said cellist Denis Brott, director of the Montreal Chamber Music Festival, who studied under Joachim. "He trained almost an army of musicians, me included. You could say he brought the German musical influence to Quebec. He was an original on so many levels, not just chamber music, but at the cutting edge of electronics, acoustic sound, audio and amplifiers."
He was not, as some presume, relate d to the great Hungarian violinist, Joseph Joachim. Otto Joachimsthal was born in Dusseldorf, Oct. 13, 1910 the son of a German opera singer. He began his music schooling when he was six years old and completed his studies at the Rheinische Music School in Cologne where he served as an assistant to Hermann Zitzmann. He began his career playing chamber music in fashionable cafes and cinema orchestras using the stage name Otto Joachim. Shortly after Adolph Hitler declared himself German Fuhrer in 1934 Joachim's performing license was revoked by the Nazi authorities. He didn't need to be told what was coming. Joachim left Germany for the Far East, going first to Singapore, where he played at two storied hotels, the Adelphi and Raffles. With the assistance of the British Colonial Secretary in Singapore he was able to arrange to get his parents and his brother, Walter, who was a cellist, out of Germany.
When Britain declared war on Germany in 1939, Joachim, who was without formal identification papers, suddenly found himself in Singapore as an enemy German national. Given the choice of being deported to a work camp in Australia or moving to Shanghai, he opted for Shanghai, one of the few cities in the world that was open to Jews during the war. There, he met and married Ellen Dieneman, who was originally from Berlin and they had a son, Davis. Subsequent to the takeover of Shanghai by the Communists, Joachim and his family had been given permanent entry visas to Brazil. As they attempted to reach their destination through the United States in 1949 Joachim wasn't permitted to enter the country. He was diverted to Vancouver and then to Montreal, where, taken with the European ambiance, he decided to stay. He took a job working in an electronics shop while waiting to be accepted by the musicians union, and soon set up his own electroacoustic studio where he began experimenting with serial, aleotoric and electroacoustic sounds. "He had created an electronic violin when he was in Germany in the 1930s," said his son, Davis. "He was into it big time. He was doing stuff you hear today 60 years ago."
In 1956 Joachim was one of the founders of the Montreal String Quartet which recorded Brahms Piano Quintet, opus 34, with Glenn Gould. Two years later, he started the Montreal Consort of Ancient Music. He played viola with Radio Canada's house orchestra, then worked with the Montreal Symphony Orchestra which, at the time, didn't exactly impress him. "We did well under certain conductors and did pretty lousy under others," he said. It wasn't until Zubin Mehta was hired to conduct the MSO in 1960 that Joachim became the orchestra's principal viola. "He had extremely defined opinions of music and musicians. Those he liked, he did so unfailingly. Bach was his god," said his son, "Those he thought were amateurs, fakers or hacks, he didn't shy away from saying so. He could be funny, but he could also be caustic." In 1977, he was commissioned by Quebec's Contemporary Music Society to compose Urauffuhrung for 13 instruments.
Conductor Seiji Ozawa, who was then with the Toronto Symphony, encouraged his work and conducted Joachim's Contrastes with the Boston Symphony, the Chicago Symphony and at New York's Lincoln Centre. Many of Joachim's electronic compositions were titled by their duration, — 6.5, 5.9, 3.4 — the number of minutes they took to perform. He continued to compose until he began to lose his eyesight several years ago. In 1969 he was the first Canadian to be awarded the Grand Prix Paul-Gilson given by the Communauté radiophoniques des programmes de langue française, for his work Illumination II, which had been commissioned by Radio-Canada.
He was awarded the Prix Calixa-Lavallée given by the Société Saint-Jean-Baptiste in 1990 and in 1993 was made Chevalier of the Ordre national du Québec. In 1994, he received an Honorary Doctorate from Concordia University. He was predeceased by his equally influential brother, Walter, who died in 2001.