The $14-million redesign of Place d'Armes in Old Montreal gives new meaning to the expression tearing up the city. Ongoing construction for more than a year has turned the historic ground in front of Notre Dame basilica into a no man's land. Tourists expecting to see the statue of Montreal's founder, Paul de Chomedey, sieur de Maisonneuve, are greeted instead by bulldozers. Making your way up Beaver Hall hill into Notre Dame or into any of the office buildings around the square means running an obstacle course around the massive excavation.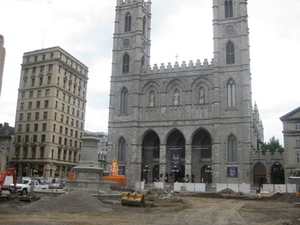 Urban landscape architects Cardinal Hardy/Teknika-HBA have come up with a concept that will eliminate the streets that surround the square and turn Place d'Armes into a huge ceremonial plaza. The entire area is being opened up from building façade to building façade. The elevated platform that used to stand in the middle of Place d'Armes has been leveled, the footprint of the original Notre Dame church which once stood in the middle of Notre Dame St. between St. Sulpice and St. Francois Xavier Sts. will again be visible, and the three flag poles that used to block the view of the basilica will be shunted aside.
"It is a very sensitive space, of exceptional historic and archeological importance," said project advisor Isabelle Giasson. "The new square will be much more pedestrian friendly and feature a symbolic reference to the old Notre Dame church which was built in 1672 and demolished in 1830." The Sulpician Seminary next to the basilica, which dates from 1785, is also being remodeled. It is the oldest continuously inhabited building in North America, and consideration is being given to opening parts of it to the public as a museum.
Place d'Armes is sacred ground. It was the site of an engagement between de Maisonneuve and the Iroquois on March 30, 1644. During the confrontation, de Maisonneuve apparently killed an Iroqouis chief with his bare hands, and saved the small settlement he had founded two years earlier. Place d'Armes didn't appear on a map of Montreal until 1683. In 1763, a statue of George III dominated the centre of the square until American revolutionaries who occupied Montreal in 1774 threw it down a well.
Place d'Armes has been redesigned many times during the past four centuries. Underground toilets were installed in the 1930s, but were sealed off during the last complete makeover in 1964. They aren't included in the new redesign Louis Philippe Hebert's bronze statue of de Maisonneuve was last refurbished in 1990.
The current redesign grew out of a UNESCO sponsored International design workshop three years ago in which landscape architects from around the world were invited to re-imagine the square.