There are actors, and then there are stars.
Pascale Bussières, the alluring star of at least 30 Quebec feature films, was never trained to be an actor - she was always too busy working before the cameras to bother going to a theatre school.
With her seductive eyes, luminous features and expressive face, Bussières can play almost anything. She won a Genie and a Jutra five years ago for her knockout portrayal of chanteuse Alys Robi in the bio pic, Ma Vie en cinemascope in which she did her own singing; she was Rene Levesque`s long suffering, first wife, Louise L'Heureux, in the CBC mini-series about the Quebec premier, She was the mother with the dying son who goes to John Hurt for help in The Blue Butterfly, the driver who falls asleep at the wheel in Denis Villeneuve's 32 Aout sur terre and Rita, the purse-snatching hell on rollerblades in Charles Binamé's, Eldorado. Now she's winning rave reviews for one of her rare stage appearances as Inez, the lesbian temptress in Sartre's Huis Clos (No Exit) held over at the Theatre du Noveau Monde until April 8th.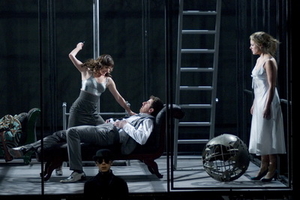 It's only the second time in 12 years Bussières has done live theatre. In an interview the day before the play opened, she was understandably anxious about the role. "The idea of going on stage, for me, is scary. It's a risk." She said. "Obviously, I don't have that much experience with live theatre, so I am living dangerously. I am not part of the National Theatre school's acting fraternity. I'm not part of the same family of actors. It requires a great deal of humility, and as well, a great deal of courage to perform on stage live with actors who are professionally trained."
Bussières is a high school principal's daughter. She was raised in south shore Ste. Julie with her younger brother, David, a guitarist who toured Europe with the Cirque du Soleil's production of Dralion.
When Pascale was 13 years old her mother heard that director Micheline Lanctot was looking for a young actress to play a suicidal teen in a movie called Sonatine. Pascale , who "thought maybe it was a good idea," auditioned, and got the part. She never looked back. In 1993 she landed the starring role the television mini-series Blanche, played heroine Marguerite Volant, then went on to do Filles de Caleb. She enrolled in a film production course at Concordia University still not knowing whether or not she wanted to be an actress. While she was studying different aspects of film-making she kept doing "movie after movie", until she had so many screen credits under her belt, she was one.
"It was just one big line that went on and on," she says, "For me , my life has been almost the same movie I have been enjoying for years and years. But today, I am much more aware of what is going on. Maybe it's not that good to be aware. I believe that actors go through phases at different stages of their careers. They begin by being good, they go through a period when they become not as good, then they become good again, depending on what they are going through in their own lives, depending where they are physically and mentally in their own lives."
A working mother with two sons, aged 9 and 7, Bussières doesn't spend much time on character studies or internalizing a role. She's not one to dwell on the mechanics of what she does or how she does it. She regards acting as more of a physical exercise than a mental workout..
"It is very physical work, very exhausting," she says. "An actor, by definition, only exists in relation to another actor; on film, someone else sets the rhythm; on stage you are totally responsible for the pace - which can be stimulating and terrifying at the same time. If the rhythm is not there you lose the sense of the play, you really do. On film, the camera does most of the work for you. It decides if you are going to seen in a close- up or a wide shot. On stage you have to fight to make yourself the centre of attention. Actors on stage are vulnerable, they can support each other, or sometimes destroy each other. That's the hardest part of the profession
"Acting is not psychological," she insists, " It's a mistake to worry about motivation. You can take too much time to analyze a part, and put too much emphasis on meaning. Acting has nothing to do with language. It has do with the way you talk, the way you move. It's a physical thing." She claims that she has never been career oriented, and that she takes projects as they come along.
"I enjoyed directing," she says of the short films she made, including a two minute commercial for Becel's Love your Heart campaign. "I feel more and more drawn to the idea of screenwriting. Being an actress, you are always on call. And when there are no calls, you feel like there's nothing to do. Even two or three movies a year doesn't seem to fill my time. I like to be busy. I' would love to work with Quentin Tarantino, I thought his Inglorious Bastards was wonderful."
Although she has appeared with Hollywood stars such as Stephen Baldwin, Kyle MacLaughlin , John Hurt and John Malkovich, Bussières has no desire to work in Hollywood.
"I could not survive down there. I could not survive," she says. "It must be amazingly awful to be a woman in Hollywood. It really hurts me to see what these women who walk the red carpet on Oscar night have to go through. It's like being part of a 16th century royal court, the way they have to dress and look and behave.
"There are some wonderful stars on the lot, but It is one thing to portray a gorgeous women on the screen, but quite another to have to live the part 24 hours a day when, close up and without make- up you are not all that gorgeous. It's all business for them, there is no time for them to relax and be natural. That must be terrifying. "