« L'Israël n'est pas l'Afrique du Sud »
~ Edward Said, auteur de « L'Orientalisme »
« Everyone has a right to their own opinion. No one has a right to their own facts. »
~ Daniel Patrick Moynihan
Over the past month – from that annual hatefest called Israel Apartheid Week to the needless row over the Jerusalem buildings – we have witnessed a viral and venal campaign of disinformation about our one democratic ally in a a sea of theocratic tyranny. We want to devote this front page to setting the record straight. To fight the teachings of contempt. Here's the real deal on Israel.
During IAW we saw the usual collection of Islamist apologists and their fellow-travelers in academic, political and diplomatic circles seeking to portray Israel as an apartheid-era South Africa in relation to its Arab citizens.
C'est tentant de l'ignorer. Mais le silence serait une soumission qui ne pourra pas plus tard être surmontée. Ces campagnes de propagande sont la guerre bactériologique, psychologique et intellectuelle de l'agression de la haine. Et elles rabaissent notre discours public. En tant qu'exemple, le président de la Fédération canado-arabe Khaled Mouammar qui l'année dernière a appelé le Ministre de l'immigration et du multiculturalisme Jason Kenney « une pute professionnelle » pour son appui à l'Israël. Ces campagnes ont déjà éliminé une grande partie des mémoires historiques et institutionnelles de plusieurs citoyens du monde libre d'une génération, et sont sur le point d'infecter une autre génération plus jeune.
The Islamist propaganda blitz in this new World War creates an enormous challenge for those still dedicated to the fate of freedom in the world. For the propagandists are engaged in an effort to destroy the legitimacy of one specific nation, a sister democracy, that is the free world's frontline guardian against the spread of theocratic tyranny. And for only one reason, because of what and who they are--Israeli and Jewish.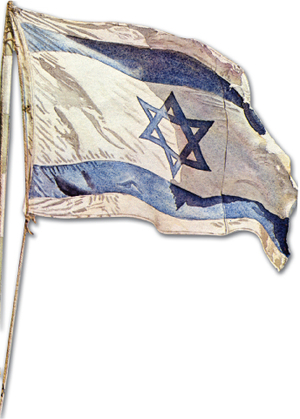 Liberté d'expression
L'Israël peut être plusieurs choses (et on peut être en désaccord avec elle sur plusieurs de ses politiques); mais elle n'est pas un État d'apartheid. Jamal Zahalka, un membre de la Knesset, le Parlement de l'Israël, qui est un arabe israélien musulman, a voyagé librement, et fréquemment, en Occident se prononçant sur le « mythe » de la démocratie israélienne. Zahalka n'est pas n'importe quel député; il est un membre du parti Balad.
Balad was founded by Azmi Bishara, also a member of Israel's parliament, who started his political life as a communist. On the 8 of February 2004 the High Court sitting in Nazareth found that members of Balad were "…guilty of having put in place a Hezbollah proxy terrorist cell inside Israel in order to carry out suicide bombings…" Bishara himself declared in Beirut's "L'Orient-le-jour" on the 13th of June 2001 that, "I do not consider Hezbollah to be a terrorist organization."
En dépit de ceci, Balad n'a pas été interdit en Israël, et ses membres, comme Zahalka, n'ont pas été interdit de se déplacer. En effet, les diplomates israéliens dans les diverses villes qu'il a prononcé des discours n'ont pu le critiquer car le protocole israélien demande le respect pour un membre de la Knesset. Alors que les juifs ne peuvent pas encore obtenir un visa pour la plupart des pays musulmans. Un autre élément. Zahalka a obtenu son baccalauréat, sa maîtrise et son doctorat en pharmacologie de l'Université Hébraïque de Jérusalem. Les Arabes forment 25% des étudiants à cette université.
Political participation
Zahalka is not a rare case. There are about a dozen Arab Muslim members of the Knesset. They represent several Arab political parties including two who expressly support terrorism. Those two had been disqualified by Israel's election authority but re-instated by order of the Israeli Supreme Court.
En effet, les Arabes israéliens, primordialement des musulmans, votent en un pourcentage plus élevé que les Nord-américains. Les Arabes servent dans les corps diplomatiques sans un plafond de verre. L'ambassadeur de l'Israël en Finlande est un Arabe. C'était le Premier ministre Ariel Sharon qui a nommé le premier Arabe israélien, Salah Tarif, au Conseil des ministres. En mai 2004, Salim Jubran a été nommé à la Cour suprême de l'Israël.
Though making up some 18% of Israel's population, 22% of the membership of the Israeli Labour Party that ruled Israel for most of its existence was Arab as of May 2005.
Droits civiques
L'arabe est une langue officielle en Israël; c'est même sur tous les panneaux routiers, ce qui n'est pas le cas de l'anglais au Québec. Plus de 300 000 enfants arabes vont aux écoles primaires et secondaires en Israël. En 1948, il y avait seulement une école secondaire arabe en Israël. Aujourd'hui, il y a des centaines. Il y a naturellement une « discrimination » envers les Arabes en Israël. Ils ne sont pas obligés de faire le service militaire, bien qu'il y a plusieurs, - particulièrement les Bédouins, les Druzes et les Circassiens - qui le font de façon volontaire.
Though discrimination in employment and social services is outlawed, there are certainly many cases of individual prejudice. But a 2000 study published in the Jerusalem Post shows just how close the living standards are between Arabs and Jews in Israel. Unemployment among Jews stood at 6.8%; among Arabs it was 10.4%. The average Jewish household had 1.80 persons for every room; the average Arab household 2.30 persons for every room. Life expectancy for Jews averaged 75; for Arabs 73.
Un des grands problèmes dénoncé à chaque semaine annuelle contre l'apartheid israélien est que le Fonds national juif et les départements gouvernementaux israéliens contrôlent la majeure partie des terres en Israël et refuse de vendre aux Arabes. La vérité est que ces terres ne sont pas vendues à personnes. Elles sont louées. Et il n'y a aucune restriction religieuse ou ethnique quelconque pour les louer. Une réalité qui a été confirmée dans un jugement de la Cour suprême israélienne écrit par le Juge en chef Aharon Barak.
The "wall"
The real story of "apartheid" is on the flip side. The "Waqf", the Muslim Religious Authority, has the protection of Israeli law to possess land and the Waqf – with no Israeli interference - has openly issued proclamations that its lands are strictly reserved for sale or lease to Arab Muslims only. In fact the Palestinian Authority has from its inception enforced the Jordanian law in place since the Jordanian occupation of the West Bank that no land be sold or leased to anyone other than Arab residents of the West Bank on pain of death.
La semaine « apartheid» attaque toujours le mur de sécurité en l'appelant le « Mur de l'Apartheid ». Les orateurs aux divers événements soulèvent toujours la décision de la Cour internationale de justice exigeant que l'Israël change l'emplacement du mur. Ce qui est toujours négligé est que la Cour suprême israélienne a exigé la même chose des mois avant la Cour internationale de justice et que le gouvernement israélien s'est conformé. Et il s'est conformé à plusieurs autres changements d'emplacements exigés par les cours. Je ne suis pas le supporteur le plus fervent pour un mur de sécurité comme solution permanente à quoi que ce soit, mais il faut se rappeler que la grande majorité du mur est accolé à la frontière de 1967. Et l'Israël a raison d'être inquiète. Quand l'Autorité palestinienne fut organisée, c'était l'Israël qui a fourni 150 000 armes pour sa milice simplement pour voir plusieurs de ces armes utilisées contre les citoyens de l'Israël par des factions du Fatah et de l'Hamas, en plus des attaques suicides. Et en conclusion, une dernière chose. Où dans le monde arabe verriez-vous un arrêt de la Cour suprême contre son gouvernement et l'acceptation d'un tel jugement par un gouvernement?
The justice system
Another big lie of Israel Apartheid Weeks is that Israel has created in the West Bank a regime of separation based on discrimination, applying two separate systems of law in the same area and basing the rights of individuals on their nationality. This is the classic half-truth. Residents of the West Bank can choose the legal jurisdiction they want to have recourse to. Including religious courts if they like. Part of the reason West Bank Arabs choose Israeli justice is the abject failure of the Palestinian Authority in implementing not only a constitution, but a functioning court system with legislation it can act on. What legislation there is, is nothing but a remnant of the Jordanian occupation from 1947-1967.
Une étude des résidants de la Cisjordanie et de Gaza, datée de décembre 2002 et effectuée par le Centre palestinien pour la recherche en politique et statistique, a démontré à quel point ils sont méfiants de la justice palestinienne. À la question : « Comment évalueriez-vous l'état de la démocratie et des droits de l'homme dans l'Autorité palestinienne? », 19.1% ont dit bon, 28.4% ont dit satisfaisant; et 50.5% ont dit mauvais. Quand cette question a été posée à ces mêmes résidants au sujet de l'Israël, 65.5% ont dit bon, 11.9% ont indiqué satisfaisant, et seulement 17% ont dit mauvais.
La terre et le droit international
Le fait est que peu importe ce qu'on puisse penser de l'occupation, hormis les politiques de colonisation qui sont répréhensibles dans beaucoup trop d'exemples, l'Israël exerce les mêmes droits en droit international que la France et que les États-Unis ont exercé après la deuxième guerre mondiale alors qu'ils ont retenu un territoire conquis pour sa propre défense après avoir survie une attaque agressive jusqu'à ce que la paix ait été instaurée. Et sous l'occupation israélienne, les Palestiniens ont le pourcentage le plus élevé d'étudiants universitaires, le taux le plus bas de mortalité infantile et l'espérance de vie la plus élevée de tout État arabe. Tout cela est grâce à l'aide de l'infrastructure des services sociaux israélienne.
The intellectual godfather of Palestinian nationalism Edward Said once wrote that "Israel is not South Africa" As Irshad Manji has pointed out, he could have stated nothing less since an Israeli publishing house translated his seminal work "Orientalism" into Hebrew. Israel is not so much the Jewish state as a state of Jews. The only preferential legislation that exists is the "Law of Return" that gives a Jew automatic citizenship while other prospective immigrants must wait three years. That law reflects the reality of a world that butchered millions of Jews and no country would take any in. Including Canada with its infamous "none is too many" policy. Israel was a haven for many Vietnamese boatpeople when Saigon fell, but there was no haven for the Jews of Europe.
Les vrais faits sur le terrain
Si les premiers Sionistes socialistes avaient eu raison, il y aurait un État binational et laïque. Mais même avant Hitler, le dirigeant religieux et politique des Arabes palestiniens musulmans, Haj Amin al-Husseini de Jérusalem, avait encouragé la tuerie dévergondé des juifs en Palestine sous le mandat britannique, en particulier entre 1929 et 1940. Il fut entre 1941 et 1945 l'invité personnel d'Hitler à Berlin, diffusant de la propagande nazie en arabe et aidant à former deux divisions musulmanes pour le SS. Il fut jugé à Nuremberg en tant que criminel de guerre; mais avec l'aide des Français et des Anglais, il retourna en Palestine et continua son carnage même après que l'Israël soit devenu le seul pays à reconnaître l'État arabe de la Palestine en acceptant le plan de partition de l'ONU. La réponse des cousins arabes d'Al-Husseini fut d'envahir la Palestine et de maintenir la Cisjordanie et Gaza en tant que prisonnier pendant vingt années. Son neveu Feisal était un membre du cercle intime d'Arafat.
These are the facts on the ground. Facts that the Palestinians must reconcile with their history if they are ever to achieve maturity as a people and as a nation.
The politics of disinformation
The current condemnations of Israel's planned additions to the Ramat Shlomo neighbourhood demonstrate an appalling ignorance – feigned or real - regarding the accepted status of Jerusalem since Camp David through two American administrations; the context of American criticism in light of similar treatment recently meted out to democratic allies like Poland and the Czech Republic by the Obama administration; and the domestic political infighting in Israel that led to the unfortunate timing of the announcement and Netanyahu's apology. It is another example of the doctrines of contempt and the politics of disinformation. Though I am by no means supportive of the entire settlement policy, too many politicians and commentators fail to point out the carnage Israel has suffered since its unilateral pullout from Gaza that put the lie to the "land as an obstacle to peace" argument. As Daniel Patrick Moynihan once wrote, "Everyone is entitled to their own opinion. No one is entitled to their own facts."
Le quartier où ces unités pourraient être construites fait partie de Jérusalem depuis 1995. Au Camp David, l'Israël a offert à l'autorité palestinienne 99% de la Cisjordanie. Avec l'appui total du Président Clinton cette offre excluait toute partie de Jérusalem aussi bien que les villes d'Efrat, d'Ariel, de Ma'aleh Adumin et du bloc d'Etzion près de Hébron où des centaines de juifs ont été massacrés avant la Guerre d'Indépendance. Ces pourcentages territoriaux ont suivi les bases du plan d'Allon qui fut proposé après la guerre des Six Jours et ont été acceptés par tous les gouvernements occidentaux. La terre pour la reconnaissance et la paix avec une annexation minimale par l'Israël (en-dessous de 3%) pour avoir une défense soutenable.
L'enjeu de Jérusalem
The issue of Jerusalem was to be dealt with as follows. Jerusalem would remain undivided and under Israeli administration but the Palestinian Authority could constitute its government entities within the boundaries of East Jerusalem. The Palestinians rejection of this offer not only stunned Clinton, but led former Secretary of State Henry Kissinger to declare once again that "Arafat never misses an opportunity to miss an opportunity."
Sur l'enjeu plus large de la terre pour la paix, l'Israël s'est retiré unilatéralement de Gaza sous des garanties internationales de surveillance du système de terreur. L'Israël a fourni à Gaza presque toutes ses services essentiels, de la nourriture, des approvisionnements, des efforts de reconstruction et un marché du travail ouvert. En quelques mois, des citoyens israéliens étaient bombardé par des attaques de fusées Kassam qui à la fin en ont été numérotées à 7000. Le Hamas n'a pas besoin d'une excuse pour tuer des Israéliens. Jusqu'à ce que l'Autorité palestinienne puisse contrôler la terreur, l'Israël est en droit de dire qu'elle n'a aucun partenaire de paix. Les appartements dans une zone de Jérusalem, acceptés depuis le Camp David, ne peuvent aucunement être un empêchement.
Plus que malheureux.Un mensonge.
Le moment de l'annonce fut plus que malheureux. C'était un mensonge. Ce projet n'a toujours pas commencé son processus de trois ans de consultation et d'évaluation. Malheureusement, le ministère responsable est dirigé par un membre du Shass, un parti religieux de droite. C'était simplement pour coincer le premier ministre Netanyahu. Comme toujours, les partis religieux sont en conflits avec n'importe quelle coalition qu'ils font parti au sujet du financement pour leurs écoles. C'est le problème de permettre des partis basés sur la foi dans n'importe quelle société. L'Irlande a vu les mêmes tensions.
Vice-President Biden and Secretary of State Clinton are very well briefed on the internal political dynamic of the Israeli coalition government. As allies they should have graciously accepted Netanyahu's apology for the timing instead of magnifying it into an issue that supposedly affected the ongoing talks. They knew better and they also knew that is no way to treat a vital ally particularly in light of current tensions with Iran. Israel needs America strategically. America needs Israel just as much tactically. Why then did America blow it so out of proportion?
Troubling trend in recent weeks
Events in recent weeks may give us a hint. They have demonstrated a troubling trend in American foreign policy. The State Department's endorsement of "healthy relations" between Iran and Syria is unfathomable. This is the same alliance that saw Iran running arms through Syria to Hezbollah in Lebanon brining that country to the brink of destruction. Despite this, Syria's Assad still accused the U.S. of colonialism and got nothing but a slap on the wrist. But perhaps the nadir of Obama's recent foreign policy has been the public apology to Libya's Muammar Gaddafi for criticizing him after the butcher of Lockerbie called for "a jihad" against Switzerland.
Trop souvent cette administration serre les amis et flatte les ennemis. Il y a plusieurs mois, lors d'une réunion de l'OTAN à Lisbonne, Obama a annoncé l'annulation du placement prévu de missiles intercepteurs en Pologne et d'une station radar en République Tchèque. « Comment pourrait Obama choisir un tel jour ? », a demandé à un haut dirigeant polonais angoissé. Il se référait au fait que l'annonce a été faite le 17 septembre, le soixante-dixième anniversaire de l'invasion soviétique de la Pologne. Obama avait décidé de faire un geste envers la Russie à cette date - une décision « courageuse » a indiqué Vladimir Poutine. Le New York Times l'a caractérisée comme un « équivalent approximatif pour les Polonais que s'ils annonceraient des concessions à un ennemi des États-Unis le 11 septembre ».
Il n'y a aucun doute qu'Obama et Netanyahu, et je suis certain que même Abbas, veulent la paix. Cependant, les barrières à la paix doivent être attaquées avec vigueur et résolues. Le président Obama devrait prêter attention à la remontrance de Churchill indiquant qu'un « appaiseur est quelqu'un qui nourri le crocodile espérant qu'il le mangera en dernière. » Ni l'Israël, ni n'importe quel peuple libre, ne devrait jamais approuver à une telle calomnie.