He may have written Death of a Lady's Man but Leonard Cohen is not, repeat, not dead. As of last week, he's 75 years old and pulling in a pension but the man's alive, the man is well and as far as we know, he still knows how to make the ladies sweat.
Edmonton's Allison Akgongor's Longing for Leonard knows what she's talking about when she writes
Leonard's sounds entice us
His words carry us away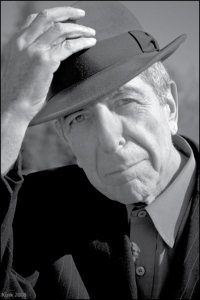 …and last Monday, that's what happened when over 24 Montreal poets met to read some of their poems as a present to celebrate Cohen's 75th birthday. Organized as a benefit for the Montreal's Foundation for Public Poetry, the reading included work published in Jack Locke's Leonard Cohen-You're our man. Locke's book is a collection of poetry in which 75 different poets reflect how they were affected by Cohen's work and what it means for them and their writing. Locke's choice of poems reflects the reality of modern media as everybody gets their chance claim their share of Cohen's work and his music. Suzanne isn't just a song. She's a post-modern substitute for Franz Schubert's Ave Maria and everybody knows what Cohen is talking about when he sings about the jazz police. Last winter, three different covers of Cohen's Halleluiah made it to the top 10 list in England but when K.D. Laing sings her version, there's not a dry eye at the bar, especially if it's ladies night in Montreal's Village. Montréal's Jeffrey Mackie nails it in his Response to Cohen inspired by Cohen's All There Is To Know About Adolph Eichmann.
It's true, if you saw him on the bus
You would assume
He was just another commuter
Everything about him was average.
And Montreal's Grace Moore gets it right in her The Serious Governance Of Canada; inspired by Cohen's The Only Tourist In Havana Turns His Thoughts Homeward.
Which of our parties
Will make an entente
To fill in the vacuum
Of a leaderless state.
Montreal poets David Solway gets it just as much as does Jessica Mailas who seems to know a thing or two about what happens in a bar when it's late and it's time to go home.
i did not call your name
as we crossed, back to back
in the midnight swell of revelers
i found it unbecoming
and strange
Other women had far more definite ideas about what they could and would do for the poet if they ever got their chance to meet and properly greet him. In Snow Is Falling Somewhere Montreal's J.R. Carpenter writes
When I was fifteen I fell in love with
And secretly wanted to be the nude girl
In Leonard Cohen's poem, Snow is Falling.
Inspirée par ce que Cohen écrit dans I Will Be Your Ghetto Jew, Nelly Roffe récita un poème qu'elle avait écrit immédiatement après avoir traduit celui de Cohen. Sa réponse franchement érotique fut d'une telle qualité que ce poème mérite bien sa place comme une franche réponse à celui de Cohen. En effet, ce juif perdu dans son propre petit ghetto pourrait bien apprécier faire la connaissance de son paire après avoir lu ce que Roffe lui offre ayant entendu ce cri d'amour désespéré.
Montreal's Erica White was more succinct when she wrote
I have loved so many men
Who loved women who
Were in love with you
And so they never felt
Like they had really been
Loved properly.
Locke's book is an honest contribution to the city's poetry and the city's various poets. However, poetry is not therapy and once published, belongs to all who read it.
Today I'm seeing
A lot of people
Who look like people
whom I know.

Waiting at the train station
And you don't show
Have I forgotten your face
Or is your train really late?
Katherine Beeman's enigmatic Lineup has something to say about Cohen's work which every reader understands as the fundamental truth which affects all of our lives.