Montreal's beloved symphony orchestra recently staged its 11th annual ball at Windsor Station and proved to be this year's premier sensory-pleasing fundraiser. A symphony of incredibly tantalizing delights for the eyes, palates and ears, the benefit soirée pulled out all the proverbial stops, as some 500 guests fêted their local orchestral treasure.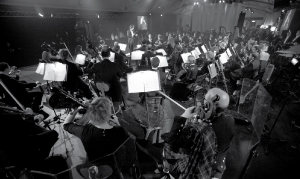 The evening commenced with a dazzling champagne cocktail reception, which featured French Kiss --- a duo comprising white-clad, electric harpist Marie- Michèle Beausoleil and keyboardist Louis-Philippe Quesnel --- who seemed to emerge from nebulae in an all-white stage motif. Charming emcee Sophie Faucher welcomed guests and introduced honorary gala co-chairs Stephen Rosenhek, managing partner with RSM Richter Chamberland and Stéphane Boisvert, Bell Canada Enterprise Group president. They immediately imparted that a net sum of $550,000 had been raised. Ball partner and Caisse de dépôt et placement chairman Robert Tessier along with innumerable MSO supporters were genuinely awed by such munificence amidst the global financial meltdown. Attendees also reveled in the knowledge that Montreal's new concert hall would be delivered by 2011.
Evening highlights abounded. They included stellar interpretations of Tchaikovsky and Strauss masterpieces (among others) under the batons of conductor-in-residence Jean-François Rivest, and virtuoso maestro Kent Nagano. Arthur Murray dance pros paired up with local luminaries such as MSO CEO Madeleine Careau, Mayor Gérald Tremblay, Suzanne Tailleur Tremblay and Paul Desmarais Jr. Diners were then transported to gastronomic heaven, via Armando Arruda's sumptuous four-course Fairmont Queen Elizabeth repast. Societe des alcools du Quebec supplied succulent choices of wines and spirits, which perfectly complemented the superbly orchestrated menu. An eye-popping array of raffle prizes were drawn and partygoers boogeyed until the final cadence after midnight. Departing guests were lavished with lovely loot and all agreed the charity ball 'exhiliration bar' had been raised immeasurably.
Corporate sponsors included: Bell Canada, Caisse de dépôt et placement du Québec,, Le Groupe Aldo, BMO Financial Group, Hydro-Québec, Loto-Québec, Mouvement des Caisses Desjardins, Power Corporation, RBC Royal Bank, RSM Richter Chamberland, SAQ, SNC-Lavalin and TD Financial Group.
Music lovers can soon savor a 76th year of virtuoso performances. The MSO's upcoming season features Beethoven's Herculean opus, the 9th symphony, in addition to a polyphony of pre-eminent works by Mahler, Mozart, Prokofiev, Debussy, Berlioz and others. Virtuosi soloists such as Menahem Pressler and Branford Marsalis will thrill audiences in 2009-2010. To access the full schedule and purchase individual or season tickets, simply consult www.osm.ca or call 514-842-9951.