Montreal housing groups scored a major victory last week when the provincial government announced that it has reversed its decision to fund a video lottery terminal and off-track betting centre on land around the Hippodrome de Montréal.
Earlier this month, the groups, which included Project Genesis, the Conseil communautaire Côte des Neiges and the Corporation de développement économique communautaire (CDEC), joined city councillor Marvin Rotrand in denouncing the plan. They argued that a golden opportunity to meet the social housing needs of the entire Côte des Neiges-NDG borough would have been ruined. Quebec Finance Minister Monique Jérôme-Forget said that it's time the government got out of the horse-racing business.
"Horse-racing activities are not part of the essential missions of the State," Jérôme-Forget said. "It is important, however, that the government offer transitional aid measures to workers and breeders in the industry."
Attraction Hippiques – owned by Liberal Senator Paul Massicotte – planned to build a Video Lottery Terminal (VLT) theatre with 300 machines on the land, which Rotrand said is roughly as large as the Old Port. It's close to autoroutes, Trudeau airport and the downtown core; in short, a priceless piece of real-estate, he said.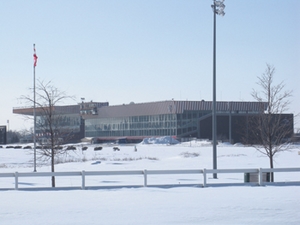 Four years ago, the Quebec government sold the race track formally known as Blue Bonnets and the other Quebec Hippodromes to Attractions Hippiques, who promised to revitalize the dying horse-racing industry and inject profits into government coffers. They have failed to do both. Massicotte, who has been unavailable for comment this week, is awaiting a March 9 hearing at Quebec Superior Court that will determine if its revitalization plan is accepted. The problem for his company is that the plan relied on a taxpayer-funded bailout plan worth between $9 and $25 million annually over as long as 25 years. Massicotte said that the aid package would have become less of a financial burden on the province, in theory, as the business became more profitable. The government was also prepared to waive a gambling or pari-mutuel tax worth $10 to $12-million per year. The offer is now off the table.
"I'm overjoyed," said an elated Rotrand, after The Métropolitain broke the news to him on Friday. "This is great news. It means the end of the Hippodrome, whether it's in six months or two years."
A mini-casino had been described by Project Genesis as literally the "worst-case scenario" for the area.
"From the point-of-view of this community, it's amazing news," said Denis Lévesque of Project Genesis. "We're not rejoicing at the loss of jobs, but the land there can respond to the needs of the community."
The only hope for Massicotte is for the Court to grant him another reprieve, giving him time to find an investor. That will be difficult, since Massicotte said earlier this month that horse-racing is essentially dead in Montreal and VLTs have been subsidizing the industry for years. In that earlier interview with The Métropolitain, he conceded that having a Liberal Senator, albeit at the federal level, receiving provincial government grants could bring on conflict-of-interest allegations.
"I was very upset (by media reports)," he said. "It's wrong to suggest that it was for my personal benefit. I've never met (Premier Jean) Charest. I've never given a dime to the Quebec Liberal party."
In hindsight, he said, he would not have bought the horse-racing business; a successful real-estate executive, he doesn't need the money. He said he's lost $25-million so far, but pointed out that there was nothing "immoral or illegal about responding to a call for proposals."
"Assuming there are no surprises, the government will take the land back into its possession and do what it wants with it," Lévesque said, hoping it would be given to the city of Montreal to, essentially, build a whole new neighbourhood. Rotrand said the borough will have to begin work on a mini-urban plan for the area and eventually present the results during public consultations.
"We have families that are paying too much for apartments that are too small," said Denyse Lacelle, coordinator of the Community Council. "We would like to see 4,000 to 5,000 housing units, including 2,500 social housing units built.
That would effectively meet the low-income housing needs for the entire borough in one shot, since roughly 2,400 people in Côte des Neiges-NDG are presently on the waiting list for Habitations à loyer modique (HLM) buildings. That's not including the economic benefits that would arise from the creation of several small businesses in the area; pharmacies, dépanneurs, daycare centres and others. With the possible extension of the nearby Cavendish Blvd., the potential to create a new neighbourhood to attract and keep young families in Montreal is extraordinary, Rotrand said.
"We will work with centre-city to ensure there is funding for infrastructure; water, roads, sidewalks, etc. At this point, there's not even a cost estimate," he added. "But I'm really pleased. The media coverage was enormous and the population really responded."
There are 200 VLTs currently at the Hippodrome; Massicotte's plan would add 100 more, each bringing in roughly $25,000 in annual income and boosting the horse-racing industry. According to Attractions Hippiques statistics, 3,000 jobs in the province depend on the ponies; 685 of which are in Montreal. Having the province inject cash into Attractions Hippiques is a wise investment, he said, because it prevents those people from needing unemployment insurance.
The probable loss of the mini-casino and the jobs that go with it is a small sacrifice to save Snowdon from what gambling addiction specialist and CJAD talk-show host Sol Boxenbaum describes as a "cancer" that destroys families and communities.
"They would have to do an impact study to see if it would increase health issues, which it would," Boxenbaum said. "VLTs have always been the crack-cocaine of gambling. They kill people. The longer you play, the quicker you get addicted and put everything you have into them. This project could harm everything because no goods or services are being exchanged…it is not good for anyone but Massicotte."