I am a quiet madman, never far from tears, I write poems to cause trouble. The sparks fly, I gather each one, and start a poem.
-- Irving Layton
Irving Layton wrote more than 50 books of poetry during his lifetime. When he died seven years ago Leonard Cohen eulogised him as "our greatest poet and our greatest champion of poetry." Had Layton lived, he would be 100 on March 12. To mark the centennial of his birth in Tirgu Neamt, Romania there will be poetry readings from his work in 20 cities across Canada, including Montreal. "This is the first time that Canada will be connected through poetry," said Elias Letelier, co-founder of the online magazine, Poetry Quebec, which is sponsoring the event.
Montreal's event takes place 6:30 p.m. Sunday, March 11 at Concordia University, 1400 de Maisonneuve West. Once described as being both "the Picasso and the Mae West of poetry," Layton is being celebrated for his often-erotic verse, his abrasive ego, his outrageous opinions, his entertaining love life and his bitter feuds.
Among the luminaries expected to be in attendance are NDP Heritage critic, Tyrone Benskin, television magnate Moses Znaimer, and Montreal's poet laureate, Claude Beausoleil. Margaret Atwood will be on hand for the celebrations in Toronto.
Born Israel Pincu Lazarovitch, his parents changed the family name after they immigrated to Montreal in 1913. Young Irving was raised in the Plateau Mont Royal district. He received a BSc in agriculture from Macdonald College. He later wrote of that experience: "The college's single agitator, single poet and single Jew, I was too absorbed in my messianic dreams to realize what an outlandish figure I cut among the simple-minded Canucks from Quebec's farms and middle-class homes."
In 1936, when he was 23, he moved to Halifax, and became a Fuller Brush salesman. He enlisted in the Canadian army in 1942 but was not sent overseas. When the war ended, Layton went back to university and in '46 gained an MA from McGill in economics and political science. He also became a card-carrying socialist.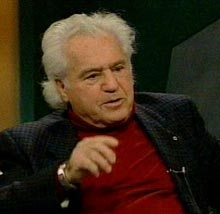 He didn't begin to write poetry until he was in his 30s; he once explained that, as a schoolboy reading Wordsworth and Byron, he "naturally thought that in order to be a poet one had to be either English or dead, preferably both." His first collection of poetry, Here and Now, was published in 1945. For the next couple of decades, he taught English in Montreal. One of his high-school students was Irwin Cotler, today the Montreal Liberal MP.. "As I remember it, I learned very little about physics, chemistry and math and a lot about philosophy and literature -- the humanities," Cotler recalled. "He was an inspiration to me then and he remains so today. He was a mentor, a colleague, a friend."
In the '50s, Irving Layton became one of Leonard Cohen's mentors, and the two remained close after Cohen became internationally famous. "I taught him how to dress. He taught me how to live forever," Cohen once said of their relationship.
Layton's reputation as a poet became firmly established with his 1951 collection The Black Huntsmen. Once he hit full stride he became amazingly prolific, producing almost a book a year between 1951 and 1991. In 1959 Layton won the Governor General's Award for his collection A Red Carpet for the Sun. Some of his other notable volumes -- all published between 1953 and 1968 -- are Love the Conqueror Worm, Balls for a One-Armed Juggler, The Laughing Rooster and The Shattered Plinths.
In 1969 Layton quit Montreal in a blaze of invective, "squeezed out by French-Canadian nationalism," and went to teach English at York University in Toronto. During the '70s, he raged against the onset of age. Poetry was always Layton's prime focus, but he also wrote two books of essays and reviews, one with the apt title Taking Sides. He also edited a landmark anthology of Canadian love poetry, Love Where the Nights Are Long. In 1976 he was invested as an Officer of the Order of Canada as "a prolific poet whose work has won him renown in Canada who is also widely known elsewhere through translation." Chastened by his years in Toronto, which he described as "a godforsaken place where people know only material success, and nothing of love," Layton returned to Montreal in 1978. The Nobel committee twice nominated Layton for the Nobel Prize for literature. In 1993 he became the first non-Italian to win the distinguished Petrarch Prize for Poetry.
IN IRVING LAYTON'S WORDS:
- "It is as dangerous to overestimate the goodness of people as to underestimate their stupidity."
- "God is indeed dead. He died of self-horror when He saw the creature He had made in His own image."
- "Idealist: a cynic in the making."
- "If poetry is like an orgasm, an academic can be likened to someone who studies the passion-stains on the bedsheets."
- "My neighbour doesn't want to be loved as much as he wants to be envied."
- "When you argue with your inferiors, you convince them of only one thing: they are as clever as you."
- "Since I no longer expect anything from mankind except madness, meanness and mendacity; egotism, cowardice and self-delusion, I have stopped being a misanthrope."
- "Blake was right; praise is the practice of art. Joy, fullness of feeling, is the core of the creative mystery. My dominant mood is that of ecstasy and gratitude. To have written even one poem that speaks with rhythmic authority about matters that are enduringly important is something to be immensely, reverently thankful for -- and I am intoxicated enough to think I have written more than one."