Returning to New York from the peaceful environs of slow paced Greenport, North Fork of Long Island, which is some 80 miles from New York City, leads one to think of contrasts as New York City's massive silhouette assaults the senses on approach. New York City is New York City but as all cities do has its own distinct neighbourhoods and character. It is not just a big city but a collection of neighbourhoods and experiences both surreal and serene in the midst of its bustling exterior. Now, where to find these contrasting experiences is not easy. The serene and the surreal are difficult to locate and based on subjective interpretation. For example one can easily dismiss Times Square as gaudy and tacky but look closely and its tackiness is surreal full of small town and innocent middle Americans strutting about in shorts and running shoes gaping with wonder at the bright lights taking pictures and having the time of their lives eagerly chatting about their great moments on their cell phones with friends in Kansas City about the ball dropping on New Year's Eve which they will not be there to witness .
There is plenty of light and sunshine in Greenport as there are no tall buildings to block the sunlight. It takes some adapting to deal with the lesser amount of light in the big city. New York City has its fair share of sunshine but there are so many skyscrapers there are many patches of shade. Many a hotel room is darkened by proximity to skyscrapers. In some cases dark is seen as hip in hotels. Take for example the Thompson "6 Columbus". Just about everything in the hotel is "in the shade". Sort of like "Blade Runner". The lighting in the rooms is subdued except for the bathroom which has a neon tube around the mirror over the sink. Pull your drapes and you'll get the natural light you need if you love natural light. The bathroom is a throwback to earlier days and so much of a throwback you wonder if it's ahead of its time with its shower curtains….gone is the glass encased shower and for that manner lack of privacy! Gleaming blue tiles encircle you. Yo….I'm back in the 1970's having a shower! Super Frette bathrobes and just slightly rough towels which is just the way I like them. The rooms come with flat screen televisions, regrettably unfree Wi-Fi access and the wardrobe is a standalone wardrobe (which I haven't seen in a hotel room since communist Romania in 1973) with black and white panelled doors. The floors are large planked black wood. There is a big writing and work desk in my King Deluxe room with plugs for my laptop at eye level instead of way down at floor level so I do not have to grovel for a plug in. Micro and convenient thinking! The drapes are grey and blue striped. The hallways are wallpapered with shiny rippled blue wallpaper with gray brown Thompson logoed carpet. Complaints? Ice bucket is fashionable but impossibly tiny so my wine can't chill properly and do I really want to call room service for a bucket of ice?….and why oh why must they charge for internet access? According to "management" the age of the typical guest is in their 40's but certain sources tell me it is more in the 30's. This is a playful hotel. There is a rooftop bar and a Blue Ribbon Sushi Bar and Grill with 41 sakes, 17 wines by the glass and 115 wines by the bottle. Unfortunately there is only a single wine from New York State. I am told the most popular wine with sushi and sashimi is Sauvignon Blanc. I tried 5 of the sakes and all of them had differing characteristics some being dry and clean others funky, some fruity, some with subtle notes of coffee, liquorice and cocoa. There is even a Taru Sake which is aged in cedar barrels. Definitely worth a stop to have some sushi and sake. In conclusion I'd like to say coming in from the natural beauty and light of North Fork into Manhattan was not easy and arriving at 6 Columbus was a bit of a shock and a difficult transition from light, light and more light. However once the senses adopted to the canyons of Manhattan and its shadows the cool shadiness and retro feel of 6 Columbus slowly grabbed hold of you like an intriguing wine. It just kind of grows on you in a positive way. There is hotel written all over this place as it was formerly the West Park Hotel (look at the original bannisters) and it was gutted and rebuilt in 2007. Rack rates are running from $540-$5,500 but there are so many specials running on this place who knows what you can find on the internet or on the hotel website itself.(Six Columbus ( A Thompson Hotel) 6 Columbus Circle, New York, New York 212.204.3400, www.thompsonhotels.com). I think I need another visit to check out this place! That's a good sign like a complex bottle of wine. Although there is a concierge available don't be afraid to ask Peter a very affable doorman who has a good command of the local scene surrounding the hotel. He is eminently charming, informative and just the type of ambassador Six Columbus needs. He is entirely relaxed and himself and so very mellow. Just nice to talk to. Need a loose leaf green tea….he'll tell you in a snap where to pick one up. It seems this Thompson Hotel has staff to suit its low lighted relaxed personality.
The 6 Columbus is not quite Lou Reed singing, "Take a Walk on the Wild Side" but nonetheless this "boutique hotel" is very well located on Columbus Circle and breaks the barriers of what you might consider as a "traditional" hotel. Give it a try and see the new wave of the hotel future. Funky and fun but is it for you!
Just up on street a few paces Is the Hudson Hotel which has public spaces that verge on the surreal with its lime green escalator leading up to a shadowy lobby with its bizarre furniture and a high end self-serve cafeteria . What is really way out is the exterior bar "Hudson Private Park" which sits encircled by high-rise buildings but the décor is whimsical and surrealistic like Alice in Wonderland has turned into an interior decorator. You can sit down and order a drink but the $18. Martini was not ice cold and was served in a plastic martini glass and the rum based cocktail was served with wilted mint leaves unattractively dangling on the sides. This bar obviously is a money machine with absolutely no pride in its drinks. Hopefully this is not indicative of the state of the rooms.
Even food can be surreal. Can you imagine eating at a very traditional tiny French Bistro by the name Deux Amis and all of a sudden finding at the end of the menu a "Bucky Burger"? Well a Bucky Burger all three of us had and it was a delicious monster with captivatingly delicious fries and even a salad to remove the guilt from eating a burger! Three Bucky Burgers with a bottle of Beronia Rioja will set you back $96.89. (Deux Amis , 356 East 51st, 212.230.1117).
While we mount our saddles after our Bucky Burger we head up back to Columbus Circle to more surreal matters and it is an exhibit at the Museum of Arts and Design called "Otherworldly; Optical Delusions and Small Realities" which is running to September 18th. There are mostly bizarre little dioramas which are models made by an artist then photographed, created into film or simply left as a model creating otherworldly views of our world. Keever's mountain landscape shot is brilliant ad Jonah Samson's model ("The Flasher") of a women flashing herself in the woods to a group of boy scouts is hilarious. ( Museum of Art and Design, 2 Columbus Circle). You may also wish to check out the show going on at the Metropolitan Museum of Fine Art….."Savage Beauty"showing some of the late Alexander McQueen's designer's wildly creative clothes from his brief career. Really wild stuff with most of it being theatrical. In my view it's waaaaay out there and in the surreal category. Just take a look at the photo attached here! (The Metropolitan Museum of Fine Art, 1000 5th Avenue at 82nd Street, 212 535.7710). I have heard that the show originally slated to close on August 7th has been extended until September but this has not been reflected on the Museum's website. It has been a wild success with huge line-ups to get in. Now if this is all getting too much for you are you interested in hopping on a city bus and heading up to a piece of Tuscany or do you need a break for lunch first. You may wish to check out the massive Whole Foods in the basement of The Time Warner Center which is just opposite the 6 Columbus Circle Hotel where there are salad, bars, Indian food bars, breakfast bars, sushi bars and never ending amounts of food ready to chow down on. All in takeout format which really is an appreciated welcome for those tiring of too much restaurant food. It's all top quality and reasonably priced. The baked goods are also very good and grab some fruit and coffee and voila eat in the comfortable take out area or bring up to your room with beer you can get at Whole Foods or wine you can pick up at the well-stocked Columbus Circle Wines and Spirits at 1802 Broadway. Chilled whites are available.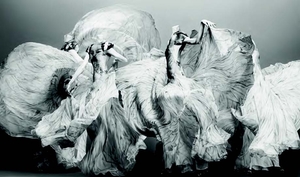 If you've read my latest article on a few restaurants I reviewed in New York you might be getting a bit downcast but Esca on 402 West 3rd Street in NYC never has disappointed and once again certainly did not disappoint with its tasteful furnishing, relaxing colour scheme and impeccable service. We were fortunate to have been there for lunch for a three course meal specially priced at $24.07 for "Restaurant Week". Fried clam strips were to tender perfection, the Bavette ( putanesca with fresh tuna) was rich and settled in an awe inspiring sauce. Arctic char and Spanish mackerel were done to perfection. A lemon olive oil cake was sublime. Lunch for 3 with a bottle of wine was $127.61. You will earn your New York foodie stripes by eating at Esca. Superb Italian based cuisine focusing almost exclusively on the ocean. If you are a meat eater and a lover of other than Italian wines then Esca may not be the place for you! (Esca, 402 West 43rd Street, 212.564-7272). Without reservations good luck. There are some 7 pages of mostly Italian wines broken down by region. I know the basics about Italian wines and can barely get through this wine list. You'll need some help from the staff and don't be afraid to ask for help from Dani, the wine director.
Now as a last point there can be a serene moment built into your NYC experience and that is a visit to The Cloister Museum and Gardens at the tippy top of Manhattan. A cab will cost you a fortune so consider hopping on an MTA bus and ride all the way up there to 9 Margaret Corbin Drive. You'll see a fair bit of New York in doing so including Washington Heights and Harlem. Been to Harlem lately? It isn't what you think it is. And you'll enter a world more suited to the quiet Tuscan countryside than to Manhattan! The Cloisters is a branch of The Metropolitan Museum of New York which is where you will see the "Savage Beauty" exhibit referred to above. But here there is only beauty and it's quiet and tranquil beauty with no savagery involved. It is difficult to describe The Cloisters other than saying it is an exact copy of a monastery in France and is devoted to the art and architecture of medieval Europe. There are many architectural fragments that have been incorporated into the architecture of the building itself. It was designed and built as a museum of works of art from the Middle Ages. It is as if the pieces form the architecture of the building itself.
Please excuse me but I have been to New York so many times I am not a resident but I am more than a casual observer which leads to some impartiality on my views of the city. If there is anything I am really tiring of its Times Square. It may be fun the first time but after that it becomes an increasing annoyance with everyone from small-town USA walking mouths open aghast at what they see on New Year's. Eve. Hawkers bellowing out inanities such as, " Ladies get your tattoos tonight and you'll sleep well tonight." It is the home of con games so well chronicled in Claude Brown's " Manchild in the Promised Land" . Just off this most annoying area there is an oasis in the Paramount Bar in The Paramount Hotel. The madness stops as you enter with Bridgette Bardot staring at you in a black and white photo on the wall. Just cascading mellow dark browns and a dash of plush red upholstery. All so cool and relaxing like the madness of Times Square is in another land far away. First and foremost I am a wine guy and will say that six wines on the bar list make me uncomfortable but there is just enough to keep me somewhat content. And lo and behold thank goodness there is a New York Finger Lakes Pinot Gris in the mix. But cocktails are paramount at The Paramount. A first test of a martini was successful so they had my attention. There are 14 cocktails on the menu including 10 exclusive Paramount creations. I tried a sip of 5 of these beauties. Complex, pensive and very serious. These are dynamite cocktails that challenge the taste buds like a complex wine. The tropical Mexican resort experience is taken ten levels up with the "Disco Punch" with rum, cocoa rum, pineapple juice, muddled raspberries and blackberries. My favourite was the "Pepino Diablo" with jalapeno tequila, lime juice, agave nectar and muddled cucumber. The biggest seller is of course " The Paramount" with Grey Goose Vodka, St. Germain, lime juice and fresh muddled ginger. I could go on and on but you get the idea here. The bartenders immaculately attired have great pride, skill and enthusiasm unlike the factory bar approach at The Hudson and their enthusiasm shows in the end product. If you want to chill out in relative quiet visit before 9 p.m. as things get hopping after that particularly on Thursday nights. These guys make a damn good martini which creates the credentials necessary to progress to their exotic and complicated but delightful cocktails! This is also a hotel with a very cool Alice in Wonderland lobby. I really have no idea what the rooms are like but if they are like their cocktails you might not be barking up the wrong tree! (The Paramount Bar, 235 West 46th Street just a smidgen above Times Square).
Coming soon….aliens are visiting Colchester Ridge Estate Winery and just may be throwing the dice at Caesar's in Windsor!