Griffith Brewer was a mainstay of Montreal s English- speaking theatre for almost 80 years. He was an unassuming supporting actor, properties master, director, carpenter and all around handyman who rarely let his ego interfere with his love of the stage. Even after he retired and lost his sight and roles for senior actors became harder to find he was content to play a corpse.
Brewer, who was 88 when he died at home in his sleep on July 17, spent most of his life in the theatre working backstage, building props and stage scenery.
"Griff was one of the gentlest, generous and sweetest people I ever knew," said the Centaur's founding artistic director, Maurice Podbrey. "He did everything in a forthright, and honest unassuming way. He commanded respect. His acting had a simplicity and a directness., He took on whatever needed to be done, parts that needed to be played, and he delivered lovely performances. In the Barber of Seville, he delivered an exuberant 10 minute monologue with gusto, He had a lovely touch conveying wisdom, and I will always remember him singing his rendition of Love I Will Give You in our production of Guys and Dolls. He could play his hand in many, many ways."
Griffith Carmichael Brewer was born in Montreal Nov.2, 1922. His father was the organist at the Church of the Messiah and the founding artistic director of the Everyman's Players Troupe. Griff made his first stage appearance at the age of 10 in a 1933 production of Everyman. As as a teenager he built props and painted sets for the company. He studied to be a teacher, but after obtaining his certificate, he abandoned teaching, because, he said, "I was terrible at it... Fortunately, I was a handyman who could act and I found a niche for myself on the theatre scene. Unfortunately, the English-speaking theatre in Montreal wasn't i the most secure of theatre communities"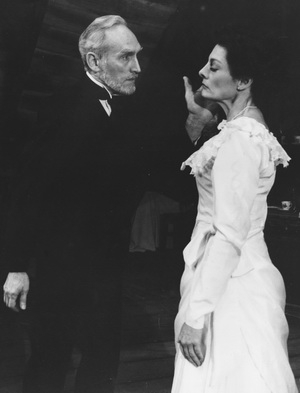 He worked at the Montreal Repertory Theatre with Herbert Whittaker who went on to become the Globe and Mail's Theatre critic and performed at the Mountain Playhouse. In the 1950s He was the voice of Dick the Beaver, a puppet on CBC television's Nurseryschool Time and moonlighted as stage manager for La Poudriere, a theatre on St. Helen's Island and then at Instant Theatre in Place Ville Marie.When the Centaur opened in 1969, he was the first employee to be hired. During his 30 years as properties master, he appeared on stage in more than 40 roles. "He was multi- talented," said veteran actor Walter Massey.."He could build a set from scratch, He worked on radio, he did stints on television, Whatever you put him to work to do he was good at it. He played old men very well even when he was young. He didn't push himself, He was self-effacing, simple, direct and intelligent." Podbrey recalls that when the Centaur staged a production of the Architect and the Emperor of Assyria, and needed a desert on stage in the middle of winter, Brewer simulated sand with 20 bags of wood shavings and sawdust that he scrounged from a nearby lumberyard.
,"Actors all seek approval, seek attention, need their egos massaged, but not Grif,f" said actor Michael Rudder, "He was quietly confident on stage, and at the theatre you would always find him in the shop, building things, carving things, painting things."
One of Brewers most satisfying moments, he said, was working with the Centaur's production of Blood Relations, Sharon Pollock's play about the legendary axe murderer Lizzie Borden. Brewer not only painstakingly constructed an exact replica of the sofa which was in the Borden home in Fall River, Mass. when the murders took place, he also appeared on stage as Mr. Borden, who was whacked 40 times while reclining on the couch. "That couch saved my ass every night," he quipped.
He also cited his work as the dress-factory worker in David Fennario's On the Job and as the master comic in Trevor Griffiths' Comedians as being among his favourites.. When Brewer turned 65 he sang and danced in his first musical, Guys and Dolls. Shortly after that, his sight began to fail, and in 1999 he retired from the Centuar. He continued acting though. Eight years ago he was cast as a blind character in Dancing To Beethovern,, a comedy filmed by the NFB in which all the actors were visually impaired.
"He had a nobility of spirit,and a simplicity of delivery which allowed him to play wise old men, judges or saints," said, Geordie Theatre founder, Elsa Bolam, a long time friend. "He knew all about carpentry, he made musical instruments, and got so much pleasure from restoring antiques, to framing pictures, to making puppets, that I always felt that Griff going blind was like Beethoven going deaf."
Brewer also often modeled for artist .Daniel Barkley, the Centaurs the Centaur's head scene painter. .'He had an interesting face, and I painted him again and again," said Barkley. "he took direction well, and he always gave a lot. In one painting, I did he portrayed both St. Anthony and St. Paul. He was tickled with the idea that I have enough photographs of him to keep painting him for years."
He leaves a daughter, Diana. Brewer's wife, Marie, died in 1999 and their son, David, died last year.