Too little thought has been given to Canada's national pavilion at the World Exposition in Shanghai, opening May 1.
Whatever one may think about the previous Canadian government's decision to take part in the Shanghai World's Fair which just opened as yet another showcase for the totalitarian Communist regime, once a sovereign nation has signed onto to an agreement it is customary that it is an obligation on future administrations of whatever party. It is not like the Olympics. This is a state commitment to put Canada's best foot forward.
Shanghai is, after all, on the other side of the world. The tangible effects of participating in a world's fair are difficult to gauge, and there aren't that many votes to be gained at home by putting Canada's best foot forward in Shanghai. So the government has fused entertainment with culture and has given over the whole thing to the Cirque de Soleil.
The Cirque is highly regarded for its slick international salesmanship, but a world's fair is, as The Globe and Mail's architecture critic Lisa Rochon reminded us, supposed to be "an Olympics of architecture and art." At World Expositions, the national pavilion itself is supposed to be an exhibit - the most obvious examples being Mies Van De Rohe's German Pavilion at Barcelona in 1929 and Buckminster Fuller's U.S. Pavilion at Montreal in 1967, both of which are still standing.
Canada has produced crowd-pleasing architecture at previous Expos; ingenuity that was not only dazzling but emotionally engaging. Think of Vancouver architect Bing Thom's seductive pavilion at Seville in 1992, with its zinc façade and cool turquoise courtyard of shimmering mirrors and light. It was so highly thought of by the Spaniards that it is the only international pavilion from that fair still standing in Seville. Thom, in fact, is so highly regarded that he was selected by the Chinese to represent Canada and to design the master plan for the Shanghai fair.
But Heritage Canada hired the Cirque du Soleil to manage things instead – not to perform, mind you, but to execute the program and design the pavilion.
"The reputation and unique Cirque du Soleil brand is well known and highly respected around the world, including China," explained Heritage Minister James Moore. "The government of Canada entered into a collaborative arrangement with the Cirque to develop the overall concept and design for the pavilion and to create the public presentation program for visitors, and to manage Canada's cultural program at the Expo."
"Canada, in its wisdom, downloaded its risk to the private sector. The Cirque surfaced, and a contract was signed," Thom told The Métropolitain in an interview from Vancouver. "Every participating country except Canada and the United States – which didn't really want to go Shanghai in the first place – has held their own design competition. It is not that the Cirque isn't a famous brand, it is. But surely that is not all that Canada is about. It is after all a World Exposition, not Disneyland."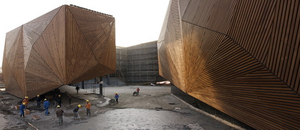 While it is risky to judge a building still under construction, architecture doesn't seem to be the Cirque's strong suit. Its production designer, Johnny Boivin, has come up with a building that resembles a looped ribbon shaped into a stylized 'C' (China? Canada? Cirque? Creativity? Confusion?). The result is inspired by the world of strip mall packaging rather than the art of architecture. For $28-million, Canadians will be getting a perfectly utilitarian stainless steel building, clad in red cedar with a green inner court that has all the appeal of a vast automobile showroom. There is no apparent spatial richness to the design, no luminous whole, no continuity, and no commitment to the Expo site on the Huangpu River.
Even more puzzling is that while Saia Barbarese Topouzanov Architectes, a Montreal firm known for its work on the Palais de Congrès and the Benny Farm redevelopment master plan, was asked to refine Boivin's concept, it gets no design credit. In fact, no one involved at the firm is allowed to talk about the Shanghai project without the Cirque's permission.
The Cirque promises a program featuring 150 Canadian musicians, dancers, actors, authors and entertainers of all sorts, including Gregory Charles, Bedouin Soundclash, The Damelahamid Dancers, Hey Rosetta, Daniel Lavoie, Kreesha Turner, Shane Yellowbird and Mark De Jong.
Canada, it seems, is content to dazzle the Chinese at Shanghai with our footwork rather than engage them with our artistry.